Coatings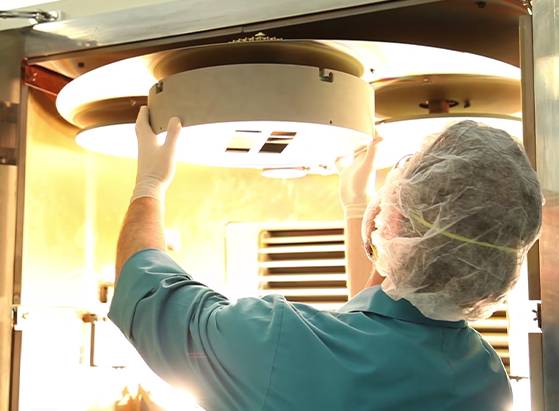 Optical coatings are specified and designed to enhance or reduce the reflectance, transmittance, or polarization properties of optical components. Coatings can be made from one or more layers of dielectric, IR, or metallic materials. Each coating is designed for a specific wavelength or wavelength range.
Our products are available either coated or uncoated. If coated, we can provide either standard or custom coating designs.
Our World-Class Coating Team
Rainbow Research Optics proudly employees a world-class coating team capable of meeting tighter tolerances than many of our competitors. Equipped with resistance heated and electron beam evaporation coating chambers, we can produce coatings ranging from the ultra-violet to the far infra-red wavelengths.
Wavelengths from
193 nm to 14 µm
Fast custom designs
ITO coatings & in-house
environmental testing
Order your coating service today!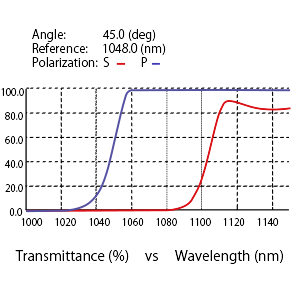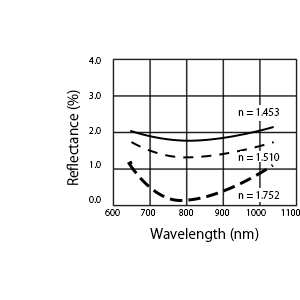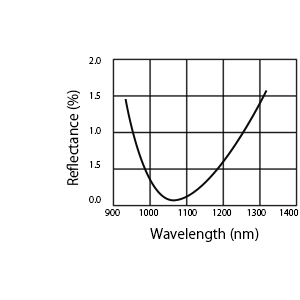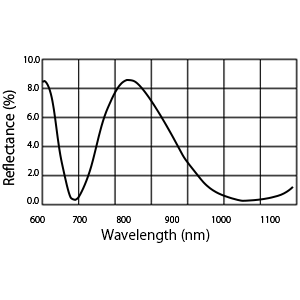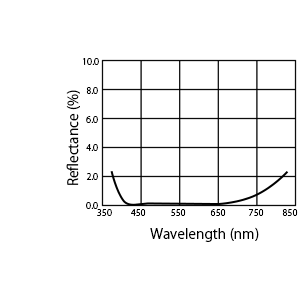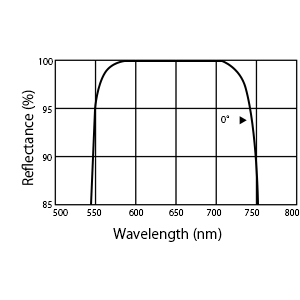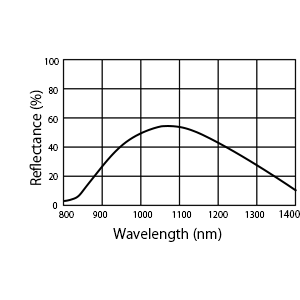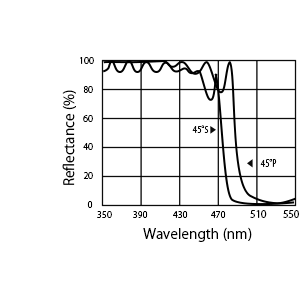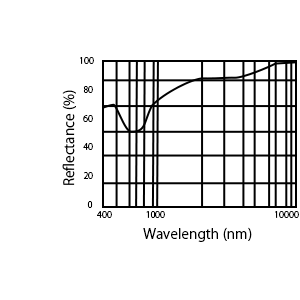 45 Degree Thin Film Polarzier Coating
10.23.2007 Our Engineers Have
Done It! We Have Developed.
Extinction Ratio: 200:1
Back Side AR Coating
Single Layer Anti-Reflection (AR) Coating
MgF2 is commonly used in AR coating for lenses, windows and beam splitters because of its almost ideal refractive index (1.35 @550nm) and high durability.Single layer AR coating is available for almost any angle of incidence and any wavelength from UV to IR. A layer of MgF2 on a glass of Fused Silica substrate reduces surface reflectance to < 1.5% per surface over a wide range.
Laser Line V- Coating
V-coating is multilayer AR coating that reduces surface reflectance <0.25% at 0 degree AOI at the chosen single wavelength . Using V-coating on Fused Silica Substrate can provide exceptionally high external transmittance. Rainbow Optics is producing V-type AR coating for any wavelength from 193nm to 2940nm.
Double-V AR Coating
Calcium Fluoride is a cubic signal crystal material grown using the vacuum stockbarger technique with good vacuum UV to infrared transmission. Care must These Double-V AR coating is providing the performance of V-coating for two selected wavelengths. This coating is useful for optics that must transmit. visible alignment laser as well as NIR process beam (ex. Nd:YAG laser). Double-V coating provides an average reflectance <0.25% for NIR region and <0.5% for visible region at normal AOI.
Broadband Multilayer AR Coating
This BBAR coating provides the minimum reflectance for wide spectral range. Average reflectance losses are reduced to <0.5% per surface for specified wavelength range. Due to the high number of layers, this coating are more sensitive to incident angle than the single layer AR.
Laser Line High Reflector
This coating is optimized to give >99% of reflectance at specific laser wavelength. It may be used as a rear cavity reflector at 0 deg AOI, extra cavity used in beam delivery or turning at 45 deg incident angle. In addition to the standard laser line coating, we offer broadband high reflector for multi-spectral application. It is more efficient than any metal coating and may be used with lasers or broadband sources.
Partial Refletcor
Partial reflective coating is used as laser output couplers at 0 deg AOI. An appropriate output coupler should be selected to maximize the output power / energy ratio. Rainbow Research Optics offers high quality laser cavity coating for low scattering. Also, dividers at 45 deg AOI for the specific wavelength. They have an AR V-coating applied to the rear surface.
Edge Pass Coating
Edge pass coating is characterized by an abrupt change between a region of transmittance and reflectance. A long wave pass coating reflects shorter wavelengths and transmits longer wavelength. A short wave pass coating reflects longer wavelengths and transmit shorter wavelengths. Cut-on/off wavelength is the wavelength at which the transmission is 50% of its peak value. A common use for this coating is to combine them with a filter or detector response in order to define a wavelength range.
Beamsplitter Coating
Germanium is used widely for lenses and windows in infrared laser systems. Germanium is the hotter it gets the more the absorption increases. At 200Â℃ it beBeam splitters are used to separate or combine two beams of light. Plates are used for most laser applications as they exhibit low absorption. Cubes are convenient, protected form for low power applications. Polarizing beam splitter coating provide an extremely efficient method of driving a randomly polarized incident laser beam into the "S" and "P" components of the beam for specific wavelength or wavelength range.
Metallic Coating
Zinc Selenide has a very low absorption coefficient and is used extensively for high power infrared laser optics. Zing Selenide is a relatively soft material and Metallic coating has lower peak reflectance, mechanical durability and damage threshold than dielectric coatings. The advantages of metallic canting are low cost, extremely broadband performance and insensitivity to input angle of incidence and polarzation